Immunomilk
Fortify your immunity. Next-level support for gut healing, recovery, and immune function.
$68.00
100% Additive Free
100% Hormone, Antibiotic, Pesticide & GMO Free
Allergen Free
Pure Nose to Tail Nourishment
Spray-Dried to Preserve Quality and Efficacy
Reclaim Your Vitality
At Heart & Soil we believe that animal meat and organs are the most nutrient rich foods on the planet, and that they provide all the vitamins, minerals, and growth factors that we need to thrive.
This knowledge has been passed down between generations of our ancestors who have always treasured animal foods above all sources of nourishment. Our predecessors didn't just eat muscle meat. While a grass fed steak is a delicious part of our diet, this is only part of the equation.
If we truly want to attain optimal health and kick as much butt as possible, eating animals from nose to tail is key. Consuming organ meats in addition to muscle meat provides a complete complement of nutrients and honors the animals we are so blessed to be nourished by.
Simply put, animal foods eaten nose to tail are the ultimate human multivitamin, containing all of the nutrients we need to thrive in the most bioavailable forms without any of the toxins found in plant foods.
Introducing: immunomilk
Next-level immune support.
Colostrum
100% Grass Fed Colostrum is a nutrient-rich first-food produced by mother cows that supports the immune system, muscle growth, tissue repair, and a healthy gut. Research shows colostrum provides benefits from as little as 2g, and is non-aggravating for those with lactose intolerance.
Strengthen your viral defenses
Better than a flu vaccine? Colostrum's nutritional profile and bioactivity stimulates immune fighting cells within the body to defeat invading viruses and other pathogens. Two separate studies show that colostrum supplementation is more effective at preventing influenza illnesses than flu vaccinations (1, 2).
Nutrients in Immunomilk
Key Nutrients in Colostrum:
Immunoglobulins (IgA, IgG, IgM, IgD, IgE).

Antibodies that play an integral role in immune defense mechanisms.
Proline-rich polypeptides (PRPs), like colostrinin.

Crucial for thymus gland support (command center for immune defense), growth and differentiation of B lymphocytes, and modulating the immune response.
Lactoferrin.

Crucial iron-binding protein which helps starve bacteria of iron needed to reproduce and modulates a powerful immune response to invading organisms.
Cytokines, interleukins, interferons, and lymphokines.

Cell signaling molecules crucial for balancing inflammation and boosting T cell activity as well as the production of antibodies. These communication molecules have been identified as important molecules for treatment of cancer, pain, and various diseases.
Growth Factors:
Transforming growth factors - alpha & beta (TGF-a & b).

Stimulates growth and differentiation of various connective tissue, including bone and cartilage, and is crucial for wound healing, gut healing, as well as DNA synthesis and repair.
Insulin-like growth factor- I & II (IGF-I & -II).

Found abundantly in colostrum and helps balance blood sugar, increase HDL, build lean muscle, and aids in the metabolism of protein, fat, and carbs.
Epithelial growth factor (EGF).

Crucial for skin health and wound healing.
Colony-stimulating Factor-1 (macrophage colony-stimulating factor).

Stimulates stem cells to differentiate into macrophages -- immune cells that "eat" or clean up dead pathogens/debris from inflammation and infection.

Lactalbumins.

Identified through research to induce selective apoptosis (cell death) of cancer cells and highly effective against various viruses.
What are Peptides?
Peptides are small molecules composed of less than 50 amino acids that serve valuable signaling roles in the human body.
Our understanding of these compounds is in its infancy, but there is already a large amount of interest in them. These special molecules occur naturally in organ meats.
We believe that these distinctive signaling molecules may underlie many of the unique benefits observed with consumption of organs. Science is finally beginning to unravel the mysteries our ancestors appreciated instinctively.
Ancestral Use of Colostrum
It is well known that cattle have played an integral role in the life of our predecessors. Ancient cave paintings from 17,000 years ago depicting auroch (extinct species in which cattle have descended from) have been identified in Lascaux, France, proving cattle played a prominent role in these primitive societies. The domestication of these animals by European culture thousands of years ago has promoted health and allowed early civilizations to thrive.
Ancient cultures of India also prized nutrient-rich bovine colostrum. Ayurvedic physicians from these cultures, known as "holy healers" or "Rishis," used this first-milk to strengthen the gastrointestinal tract and immune system to prevent infections from bacteria and viruses (especially in the elderly population). In traditional people of England and Scandinavia bovine colostrum was regularly given to entire families to promote health. A pudding from this immune-factor rich substance, commonly referred to as beestings, was used in these cultures to celebrate new life and good health.
Ancient Egyptians instinctively knew the power of bovine colostrum and demonstrated this by hieroglyphic text. Temples are dedicated to the Egyptian cow goddess, Hathor, who symbolizes rebirth and new life. Here stands a stone slab, known as a stele, that depicts Hathor suckling the pharaoh, offering her colostrum as "the elixir of metamorphosis to confer immortality upon the king."
The Masai warriors of Kenya, well-known for milk and blood consumption, treasure colostrum for their strength and vitality. The cattle in these tribes are considered the most important form of wealth and even sing songs of praise in recognition of the value colostrum brings to them.
As the 18th century approached for westernized civilizations, colostrum was noted to have strong immune-boosting effects. This first-milk was widely known to be a crucial source of antibodies to help fight off infections. Before the advent of penicillin and other antibiotic development, colostrum was a main treatment for bacterial infections. Albert Sabin, the inventor of the polio vaccine, used bovine colostrum to directly harvest antibodies.
Customer Reviews
Write a Review
Ask a Question
Filter Reviews:
supplements
Immuno Milk
issues
energy
Heart
Paul
nose
Soil
sleep
workouts
"Exposure" with Confidence
I'm a 53yr old single mom living in the Los Angeles, CA area, where I'm surrounded by people who are double masking, have social distanced themselves into government dependence and are racing to get the shot, yet still wearing their masks. But I'm not buying what they are selling. This entire time, my job has required me to come into close contact (1-2 feet) with an average of 6 strangers a day, 5 days a week, for a minimum of 1-2hrs. Plus, my church services have been fully open since May 2020, where I sit shoulder to shoulder every Sunday with at least a 400+ member congregation. No masks. No social distancing. Singing, handshakes, hugs and high-fives. BTW, not a single covid case! I pick the "dirty" carts/baskets at the grocery store. I NEVER use hand sanitizer or gloves. I offer my customers to not wear their mask if they don't want to. I ALWAYS accept their offers to not wear my mask. Though I'm always respectful of their "fear" if they need their security face blanket. I haven't had so much as a cold, nor have I received a call that any of my customers have gotten sick. But, here is what I do do... I eat animal based; from clean and healthy animals. I take H&S supplements daily. I don't eat processed foods and have removed chemicals from my life as much as possible. I exercise and get a little sun daily. I sleep. I hug people. I've turned off the news. And I wash my hands with soap and water when I get home. I'm certain H&S supplements have improved my health. I'm at an optimal weight, have mental clarity and my skin and hair look fantastic. I plan to take H&S forever, as I love the quality and detail put into each option. Plus, you won't ever catch me eating liver. LIVE YOUR BEST LIVES PEOPLE!
04/12/2021
Kira K.

United States
Best Defense for Autoimmune Issues
I was diagnosed with Multiple sclerosis in Dec 2008. The injectable meds like Betaseron and ReBif took their toll on my body and gut. I stopped all meds in early 2020 and now rely solely on my Keto-Carnivore diet supplementing with Heart and Soil supplements like Immunomilk. Immunomilk helps me feeling strong, pain free and I don't feel inflamed. No MS flareups! I also feel that I am more resilient against catching colds. I continue to feel healthy and have mental clarity. Immunomilk is a game changer for anyone with autoimmune disorders!! Period!!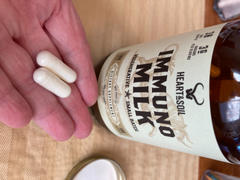 04/11/2021
Don F.

United States
Immunomilk
My wife takes this one, prior to anything else in the morning. Today, she took it with the Bone Matrix and Gut&Digestion. She believes it is working well for her. She hopes to have our grand daughter on it soon.
04/06/2021
Erin T.

United States
I'm able to workout again
I've been struggling with back issues and so frustrated because when I do workout my body hurts so bad the next day. I started taking this product for other reasons and had no idea of it's healing attributes for muscle growth and tissue repair. It's been 30 days and I'm able to workout without pain and recover twice as fast. I put two and two together and realized it was because of this specific product! Very pleased. Thank you guys for what you do.
03/27/2021
Rodger B.

United States
Immuno milk works
I noticed after a while that my allergies were dramatically better. I went on vacation recently and forgot to bring it... my allergies were way worse after I missed it for a few days! Definitely recommend it!