"The world is a book and those who do not travel read only one page."
---
Hey Radical Health Seekers 👋
At Heart & Soil, we're passionate about traveling. This year, many of our tribe members have been on exciting adventures, including trips to the nearby Texas Hill Country, hiking in the Colorado mountains, surfing in California, and spending time with family in Europe.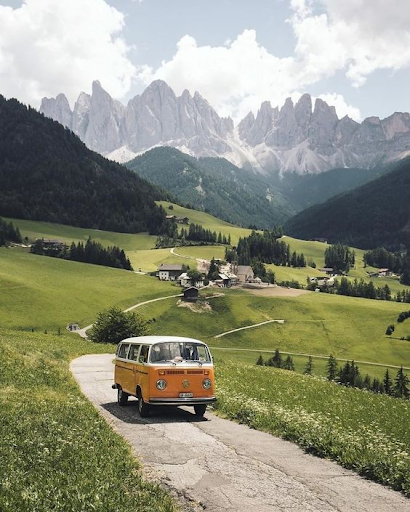 Travel is good for the soul.
Especially when it involves adventure, time with loved ones, and personal growth.
But travel can also be terrible for our health.
Because 8 hours sitting on your butt eating airplane food, followed by jetlag, is bound to knock even the most dedicated Radical Health Seeker off track.
Not to worry. We're seasoned travel pros here, and in today's newsletter we're giving you our top tips for maintaining your radical health no matter where your travels take you.
Let's go!
How to navigate airports & airplanes like a pro
Lets be honest. No man, woman, or child has ever found radical health in an airport terminal.
So you need to come prepared.
Will you have time to eat, get sunlight, exercise, and do some grounding before leaving for the airport? That will depend on your flight time, but if you can, doooo it.
If you have a short flight, consider fasting until you reach your destination. You save money, and it's a good time to flex your metabolic flexibility.
But if it's a long-haul flight, prep your food. Because travel is stressful enough without the added stress of a long fast.We do burgers, fruit, honey, cheese. And our freeze-dried organ supplements.
You can bring 1 lb, 2 lb or 10 lbs… just be sure to bring enough so you don't run starving into the nearest Dunkin Donuts.
(yes you're going to have to be the weirdo on the plane eating ground beef, welcome to the club 😁)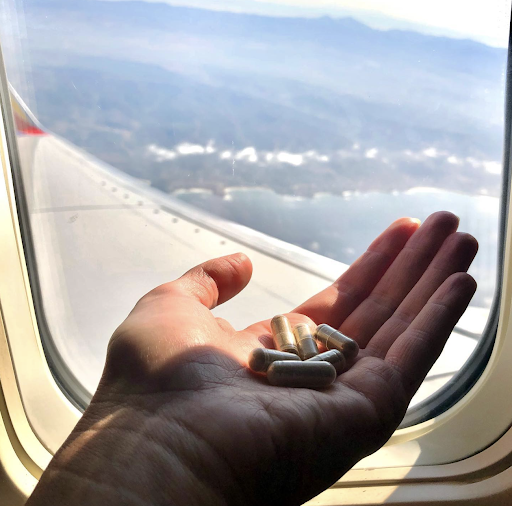 Secondly, don't just sit down at your gate 3 hours before your flight and watch Netflix. You'll be sitting enough on the plane, so now is your opportunity to minimize the stillness factor!
How many steps can you rack up between security and boarding the plane?
Bonus points for doing deep squats in the boarding queue (your spine will thank you).

Here's another tip… when you are in the air, don't just sit in your seat.
Walk the plane. Hang out down the back near the toilets and touch your toes (but don't be creepy about it). Aim to do this at least every 60 minutes to keep the blood flow moving.
At your destination 🌴☀️
One of the biggest challenges with travel can be jet lag… it's incredibly stressful on the body, throwing your circadian rhythm and hormones into a curveball.
The trick with jet lag is to align your behavior with the local time as soon as possible.
So if it's daytime when you arrive, get outside and get some sunlight.
Bonus points for grounding with your barefeet.
Think of this combo of sun and earth as almost like plugging into the environment and picking up information to help your body retune its circadian clocks again, making the jetlag a smoother transition.
You're gonna want to realign mealtimes and bedtimes too…
So if you reach your destination in the afternoon, but it's nighttime back home, try eating a small dinner and staying awake a couple of extra hours until you reach bedtime at your new destination.
Further Listening:
Travel is about embracing new experiences, immersing yourself in the local culture, and yes, even exploring new foods and cuisines.

Does that mean you should eat the croissant in Paris?
Or drink Guinness in Ireland?
Only you know the answer to those questions.
If you've been following an animal-based diet, then hopefully you've built up the resilience to flex that muscle a little.
But if not, no worries.
Because most destinations will offer incredible animal-based foods if you know where to look.
The New York deli that sells raw cheese and pastured pork…
The elderly Greek man roasting lamb on a gigantic spit…
And the French waitress who will serve you up a beautiful steak with a side of tallow cooked fries.
Try to find food like that on your next vacation and you're guaranteed to find an adventure too!
Speaking of Europe, it's the food capital of the world, right?
Pizza, pasta, and bread… basically all the foods we know when we eat in the United States, mess up our health.
But it's super interesting, because so many people have said they've eaten those foods in Europe and had a completely different reaction than when they ate them here in the United States.
Some have even said they got leaner while doing so.
This is something we've spoke about recently on our podcast, Radical Health Radio.
We know the wheat is different in Europe, with less gluten, GMOs, and chemicals.
Europeans tend to cook with butter or olive oil instead of canola or soybean oil too… So less seed oils.
But it might also be down to the 4 S words… sunshine, sleep, steps and stress.
Because when we're on vacation we tend to get more sunshine, more sleep, more steps (you can't go to Europe without walking everywhere), and less stress.
And it's incredible how potent these four things can be on our health… people think food matters, and heck, it sure does, but these four things matter a ton too.

Now go plan your next adventure.
Because nourishment is found in more than an animal-based diet.
The Heart & Soil Team
Subscribe to future articles like this: