Today, we're sharing some delicious animal-based Thanksgiving recipes.
It can be challenging to stay healthy over the holidays, given all the temptations to indulge in the traditional Thanksgiving foods. The good news is, most Thanksgiving dishes are already animal-based. And for the dishes that aren't animal-based, we have some creative (and tasty) alternatives that everyone will love. With a few minor tweaks to recipes, it's possible to have a delicious Thanksgiving meal without sacrificing your health goals!
Here are some animal-based Thanksgiving recipes you can make this year:
Turkey
Stuffing
Cranberry Sauce
Gravy
Charcuterie Board with Meats, Cheese & Fruit
Butternut Squash with Maple Butter
Mashed Sweet Potatoes
Butternut Squash Soup
Pumpkin Ice Cream
Stewed Apples
Roasted Pears
Apple Pumpkin Cloud Cake
Organic Dates with Butter
Pumpkin Pie
First, we'll focus on an appetizer, then everyone's favorite Thanksgiving staples. Let's get cooking!
Appetizers
Charcuterie Board
Create a spread with all your animal-based favorites like olives, a variety of cheeses, cured meats, and organic fruits of your choice.
Ingredients:
Grass-fed & finished beef sausage
Raw cheeses
Olives
Pickles
Fruit (fresh or dried)
Thanksgiving Staples
What kind of Thanksgiving recipes blog would this be without a Turkey?
Good news. Turkey is considered animal-based, but there are some caveats.
Technically, Turkeys are monogastric animals (like chicken and pork), meaning they are predominantly fed corn and soy rich diets, resulting in unnaturally high linoleic acid levels which gets stored in their fat. There is strong evidence to show that excess linoleic acid consumption is the primary driver of metabolic dysfunction and chronic illness.
We suggest sourcing a pasture-raised, corn and soy free turkey. Check out these options below for sourcing a high-quality Turkey:
Eat Wild: A great website that will connect you with a local farmer in your area!
White Oak Pastures is taking pre-orders for small, medium, and large pasture-raised Turkeys!
Northstar Bison sells corn-and-soy-free turkey that comes in a variety of sizes.
US Wellness Meats is another provider of pasture-raised Turkeys which aren't exposed to antibiotics or GMOs.
Once you source your turkey, the hard part is over and the fun begins. Our friend Ashley Rothstein recently posted several of her favorite Thanksgiving recipes like stuffing, cranberry sauce and gravy.
Animal-Based Stuffing
She created this incredible animal-based stuffing with simple ingredients like eggs, bone broth, apples, and bacon.
Ingredients:
Ground Pork
Sugar-free bacon
Kabocha squash
Apples
Eggs
Yellow onion (optional)
Bone broth
Apple cider vinegar
Salt
Grass-fed ghee
3 Ingredient Cranberry Sauce
Ashley also came up with a simple three-ingredient cranberry sauce. It's about as healthy as cranberry sauce gets!
Ingredients:
Cranberries
Orange Juice
Maple Syrup (or Raw Honey)
Gravy
At this point, you're probably wondering, where is the gravy? Not to worry, because Ashley has got you covered on this staple as well!
Ingredients:
Bone broth
Turkey drippings or water (optional)
Cold water (for blooming gelatin)
Raw butter
Beef gelatin
Salt
Raw milk (or cream)
Herbs & spices (optional)
Side Dishes
The traditional sides like dinner rolls and green bean casserole are probably best left out of your Thanksgiving meal in our opinion. But there are plenty of tasty side dishes that just so happen to be animal-based.
Here are a few of our favorites!
Hasselbeck Butternut Squash
Hasselbeck butternut squash with maple butter: it's a unique-looking dish and it's packed with flavor!
Ingredients:
Butternut squash
Raw Butter
Sage & Rosemary (optional)
Maple Syrup
Olive Oil
Salt
Mashed Sweet Potatoes
This will generally consist of sweet potatoes, milk, salt and butter. Feel free to add some maple syrup or raw honey for additional flavor!
Butternut Squash Soup
Butternut squash soup only calls for a few ingredients and tastes great when topped with crispy bacon bits and sour cream!
Ingredients:
Butternut squash
Onion
Garlic
Salt
Avocado oil
Chicken broth
Grass-fed heavy cream (preferred) or coconut milk
Apple
Bacon (optional)
Desserts
If you still have room left in your stomach and haven't fallen asleep yet from all the tryptophan… then it's time for some dessert!
Pumpkin Ice Cream
Pumpkin Ice Cream is made with raw milk, pastured eggs, organic pumpkin puree, Ceylon cinnamon, and maple syrup or raw honey. If you don't have an ice cream maker, a blender can also work well – as Dr. Paul explains in this video.
Ingredients:
Raw Milk
Raw Cream
Eggs
Raw Honey
Pumpkin puree
Stewed Apples
These are great and will remind everyone of apple pie! Low prep time and a guaranteed crowd favorite.
Ingredients:
Chopped (peeled & cored) organic apples of choice
Raw butter
Squeeze of lemon juice
Ceylon cinnamon
Prep is simple!
Just chop up the apples, add cinnamon to taste, a squeeze of lemon and stir. Serve cold or heat it up in the oven or on the stove for a few minutes.
Roasted Pears
Roasted pears go great with some homemade raw milk ice cream on top.
P.S. If you need help finding raw milk in your area, feel free to check out this site!
Ingredients:
Pears (slightly underripe)
Raw butter (unsalted)
Raw Honey
Balsamic Vinegar
Apple Pumpkin Cloud Cake
Apple Pumpkin Cloud Cake: this contains organic unsweetened applesauce, organic pumpkin puree, organic pumpkin pie spice, pasture-raised bovine gelatin + raw whipped cream (made by whipping heavy cream with maple syrup or honey, and real vanilla extract). This recipe is a crowd favorite at Heart & Soil gatherings.
Ingredients:
Applesauce
Gelatin
Organic Dates with Butter
This one is a crowd favorite at Heart & Soil HQ, no matter what time of year it is.
Organic dates with butter: cut dates in half, remove the pit, and add grass-fed butter. Simple and delicious.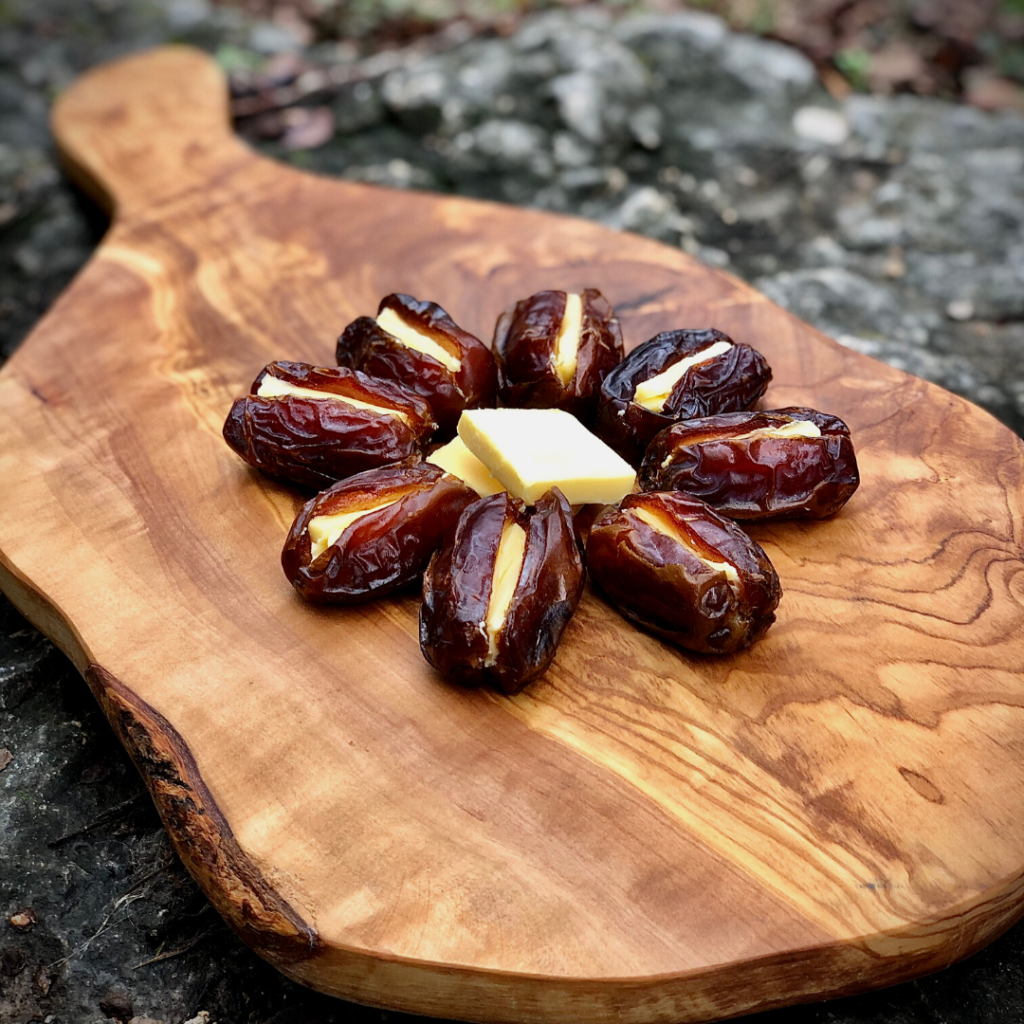 Ingredients:
Dates
Grass-Fed Butter
Pumpkin Pie
An animal-based pumpkin pie is possible, after all!
Ingredients:
Ground pork
Pork rinds
Eggs
Grass-fed ghee (or butter)
Maple Syrup
Salt
Pumpkin puree
Raw milk (or cream)
Eggs
Maple syrup (or raw honey)
Vanilla
Pumpkin spice
Happy Thanksgiving!
Hopefully, these Thanksgiving recipes give you some great ideas to work with!
Have a fantastic Thanksgiving. We'd love to hear about any other animal-based recipes you incorporate into your holiday festivities.
Feel free to share them with us on social media (just tag @Heartandsoilsupplements on Instagram) or in our animal-based community.
Subscribe to future articles like this: