As the Heart & Soil message spreads, we've become increasingly focused on how we can make radical health (and our organ supplements) accessible to as many people as possible – athletes included!
The thing is… many athletes are extra cautious about the supplements they take. They must ensure the supplements they take meet the highest quality standards.
That's why for almost a year now, we have undergone a rigorous third-party quality assurance certification process to become Informed Sport Certified! (Spoiler alert: all of our supplements passed their banned substance portion of their testing, except Whole Package. Skip to the end of the blog to learn why this is a good thing for everyone except athletes!)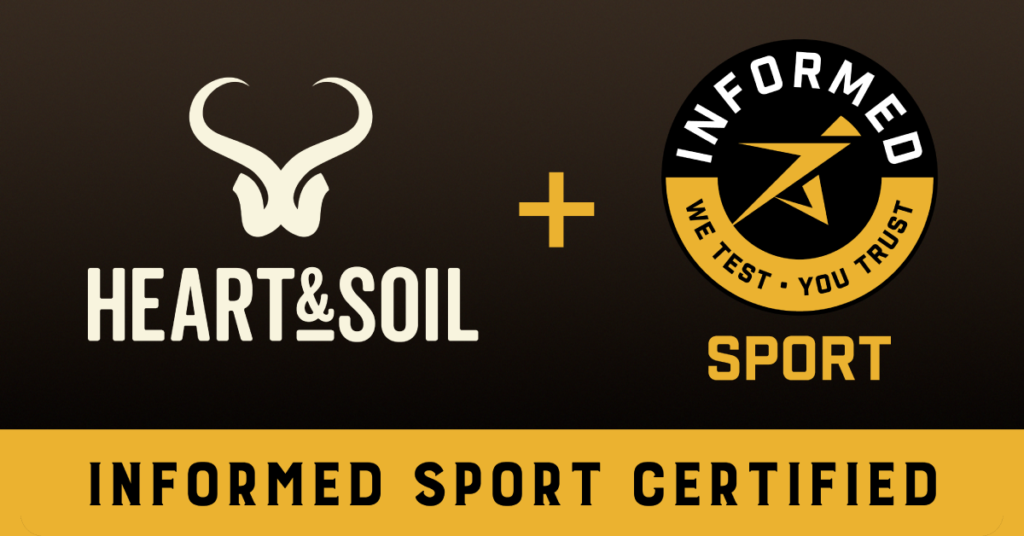 What's Informed Sport?
Informed Sport is a globally recognized substance testing certification program that tests every batch of product before it gets released to market. They're considered the gold standard for quality assurance of sports nutrition products around the world.
Certified products are tested against more than 200 prohibited substances included on lists such as the NFL, NBA, MLB, MLS, NHL, PGA/LPGA, NCAA, WTA, and WADA (World Anti-Doping Association). These sporting bodies highly recommend that their athletes only choose vitamins and supplements that meet these standards.
When a supplement user sees the Informed Sport mark on a product, they can have 100% confidence that it meets the highest standards, tested by their ISO accredited laboratory.
Certification Process and Standards
An Informed Sport Certified product is one that has passed their manufacturing quality system audit and rigorous product testing. The process includes:
Product/ Ingredient evaluation
Raw material (RM) evaluation/audit at each production/packing site
Raw material supplier assessment procedures
GMP certification verification
SOP (Standard Operating Procedures) review for all production/packing/storage areas
Label claim, purity and contaminant testing verification
Third-party manufacturer quality systems and cleaning audit
Pre-certification sample testing
The process doesn't end after certification, either.
Post-Certification testing is extensive. Each lot is tested prior to release for sale, plus up to 4 retail blind samples are screened per year. In this program, a manufacturer will take two samples off the production line and send them in for pre-release testing. The production run is then held in quarantine until testing is complete and the lot(s) are cleared.
Additionally, an LGC administrator will purchase a sample of the certified product every three months (or up to 4 times per year) as a check and balance that the lots sold at retail are the same batches sent in by the manufacturer.
Every certified product, along with batch/lot numbers, will be listed on Informed-Sport.com.
What About Whole Package?
Unfortunately for athletes (but *fortunately for the rest of us), when we tested Whole Package for banned substances, the test results showed naturally occurring testosterone and multiple androgen metabolites.
Are we surprised? Nope! Whole Package contains testicles, which are the main site of testosterone synthesis in the male body. That's why our ancestors have prized testicles for thousands of years – for their ability to increase performance, strength and vigor.
If you're an athlete who will be drug tested for your sport, we recommend you avoid eating fresh or desiccated testicles.
For the rest of us, especially those of us with low or decreasing testosterone, eating fresh or desiccated testicles could have a HUGE benefit!
A Brief Note on Immunomilk
Immunomilk is one of our most popular supplements for those who understand the power of its contents – and for good reason, too. It's made from colostrum, or "first milk", the first milk produced from cows immediately after delivering a newborn calf.
While Immunomilk did pass all testing, it didn't receive the Informed Sport Certification simply because many sporting bodies outlaw colostrum.
If you're an athlete interested in taking Immunomilk, rest assured that we will continue thorough and regular substance testing to ensure that it meets adequate standards for athletes and you can continue taking it with confidence.
The Heart & Soil Standard
Becoming Informed Sport Certified has taken us nearly a year (8+ months to be exact), but it's all been worth it. In the end, we've raised the bar for quality assurance of glandular supplements and provided more transparency for our customers and athletes alike!
We're calling it "The Heart & Soil Standard".
We're proud that athletes can now use the most nutrient-rich supplements on the planet with full confidence that they meet the highest standards in sport. If you're an athlete who's been waiting for the "green light" to try our organ supplements… welcome to the tribe!
As always, feel free to message our Health Success Team with your personalized health questions.
For more updates like this one, be sure to follow us on Instagram and subscribe to our Radical Health Newsletter.
Subscribe to future articles like this: